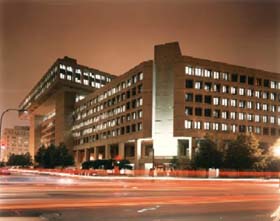 Derived from the domain name of FBIjobs.net?
English
2018年4月21日 
The Federal Bureau of Investigation (Federal Bureau of Investigation) which everyone knows not American, there is a site called www.fbi.gov on one of the homepages of FBI. The site of FBI is www.fbi.gov. In this site, the FBI investigations and the provision of incident information are requested, articles about past incidents, the organization of FBI, etc. are described.
On the other hand, in fbijobs.gov, recruitment of FBI investigators and staff is posted.
Well, it is derived from the name of this subject FBIjobs.net, but I think you understand, but I received it from fbijobs.gov. When I registered the domain, it was still fbijobs.com.
fbi.gov, nsa.gov, cia.gov, whitehouse.gov, these government sites end with gov. This is said to have come from the word "government", meaning that the site with ".gov" is a government site (".go.jp" in Japan), ordinary people ". Gov You can not acquire the domain that is attached. Instead, domains other than ". Gov" such as fbi.com, cia.jp, whitehouse.com, etc. have already been registered with other people (those not related to these government agencies).
The reason I started up the site was because I made a page dedicated to seminar seminars during my college days, and I wanted to create a site to distribute to the outside from there.
It was in 2005 that I acquired. Around this time, trying to get a domain with the same name as the government system was quite difficult.
First of all, why was it FBI?
I was a big fan of "X-FILES" that was based on UFOs and paranormal phenomena created by American FOX channel at that time.
"X-FILES" depicts how FBI agents investigate mysterious events such as paranormal phenomena and caused a boom in the world such as the United States. Also, in the play, only the exterior, but the building of FBI headquarters appeared.
Interested in FBI with this drama, it happened that at that time, FBI was acquiring fbijobs.com, but since nobody was acquiring the domain to which fbijobs is attached, acquire a domain called fbijobs.jp That was the chance.
There was no intention to interfere with the business of FBI at all or to commit a criminal act. Rather, I support FBI activities.
At the time of launching the site, it was a small site of about 10 visitors per day, but now it has grown to a site where 800 to 2000 visitors a day.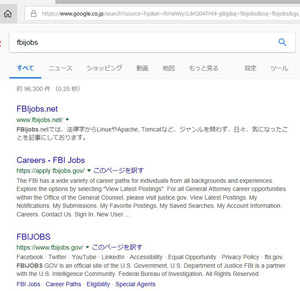 When Google searches with a government domain name, gov takes precedence, but if you search "fbijobs" in Japan, fbijobs.jp will be displayed at the top. This seems to be a rare case.
In case Below is the CM movie of FBIjobs. It was still FBIjobs.com at this time.
This top image is from the FBI site